These archives are presented mainly for your amusement. Many of the links are probably dead but you might enjoy reading my ramblings.
11/28/01
I think I've found a possible solution to host some of the Quicktime movies on the Movies Page. I'll see if I can add some more.
11/24/01
I hate to report bad news, but for the second month in a row I'm over my average daily bandwidth usage. Unfortunately, due to some current economic situations I can't afford for that to happen. So I'm taking down all the movies and MP3s until I can find a suitable alternative. I know this sucks but there it is.
10/24/01
I'm sorry to include this, but I feel I need to at least throw up this PayPal thing. I've gone over my bandwidth limit this past month and need to look for ways to recover the costs of this site. Feel free to ignore it but if you're downloading my MP3s or Quicktime Movies (high-bandwidth files) I'd appreciate a dollar in return.

09/17/01
Sorry this is such a lame year for my site. The house, well kitchen project, has taken over my life outside of work this year. I hope to be finished in a few months. Once life returns to some sense of normalcy I'll be able to do some fun stuff with this site again. On the bright side I've updated the movies page to reflect the space upgrade I got from my hosting service. I've re-linked some movies that were broken.
Here's some more examples of what I've been doing.



Yep, took out a wall. Those are 4 pictures of the same space.
06/11/01
The house is still a major task. I feel like we'll be lucky to have a kitchen by fall (it's already been 6 months of NO kitchen). Here's a sample of my handywork (that's a shot through the kitchen subfloor I removed looking into the basement).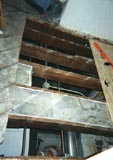 I'm slowly moving some files to a new home after losing my old server space. I've moved the Hacienda show and Hangin' with MTV on the audio page. Those links will now work. I'll update here as I move more.
03/20/01
Hi faithful readers. You may have noticed the lack of activity here for the past 4 months. That of course is the exact time that I have owned my first house. Needless to say it needs some work -- the kitchen is the current project -- and my every free moment has been spent working on the house and not this site. We started on the kitchen soon after moving in and right now it's gutted, just 4 walls and almost a floor -- I'm replacing the subfloor currently. Microwave meals are getting old as is pizza. But I ramble. I hope to have something going on this summer on the site after the kitchen is done. But for now my attentions are elsewhere.
I hope you enjoy the information I've accumulated and come back again this summer.